The Highpointers Foundation has launched a Silent Auction capability on their website so check it out!!!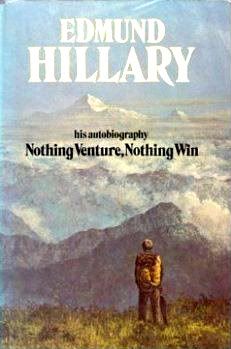 The first Silent Auction ended at the NJ-09 convention with $500 being raised when Frank Ashley's "US State Highpoints" signed guidebook was auctioned.
This particular Silent Auction is being held from October 1st, 2009 thru Friday, December 18th at 6 p.m. EDT. 
The featured item this quarter is an original, signed, "Sir Edmund Hillary – Nothing Venture – Nothing Win Autobiography" that was published in 1975. 
Sir Edmund Hillary passed away 2008 so this is a rare opportunity to score a signed copy of his autobiography.  This special item was donated for auction by Highpointer Penn Watson and can only be seen in the libraries of a few venerable alpinists.
To bid, or get more information Click Here!!!   Fill out the Bid form, and submit a bid.  Bids must be at least $10 higher than the current high bid. All bid activity will be updated daily, but is not instantaneous.
The amount of the donation above and beyond the value of the book from the winning bidder is tax deductible so please consult your tax professional.